The French version of this document is no longer maintained: be sure to check the more up-to-date English version.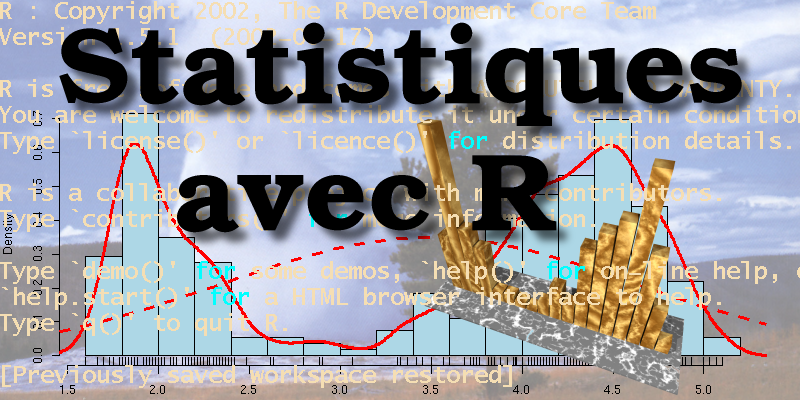 Mise en garde
Voici les notes que j'ai prises en découvrant, apprenant et utilisant le logiciel de statistiques R. Néanmoins, je ne revendique aucune autorité dans ce domaine : j'espère que ces notes vous seront utiles, mais elles peuvent toujours comporter des erreurs.
[2004-10-13] Note to English readers: I have just started to translate this document into English.
[2005-04-25] Other note to English readers: The translation is over, I am now reorganizing all this and filling in some gaps. I hope to make this available this summer.
1. Introduction à R
2. Programmation sous R
3. Personalisation des graphiques
4. Graphiques avec R
5. Méthodes factorielles : autour de l'Analyse en Composantes Principales (ACP)
6. Classification
7. Distributions de probabilités
8. Estimateurs et tests statistiques
9. Régression
10. D'autres régressions
11. Examinons, critiquons et interprétons les résultats d'une régression
12. (vide)
13. Préparation des données : transformations, valeurs manquantes et aberrantes
14. Rééchantillonage (bootstrap)
15. La malédiction de la dimension
16. Exemple
17. Analyse de la variance
18. Modèle linéaire généralisé : régression logistique, régression de Poisson, etc. (classification supervisée)
19. Analyse de la survie
20. Séries temporelles
21. Divers
22. Bibliographie
23. A CLASSER

Vincent Zoonekynd
<zoonek@math.jussieu.fr>
latest modification on Wed Oct 13 22:33:29 BST 2004